After making a significant personal investment to get into graduate school, most prospective students want some type of return—admission to a decent school, at the very least.
And while there are plenty of experts touting tips like 'research schools thoroughly' or 'study for the GMAT', generic advice is not what the business-savvy applicants need.
For this reason, MBAInsight.com has scoured the comments section of their website and come up with nine of the best MBA admissions tips from current MBA students:
---
1. Start The Process Early
There's nothing worse than scrambling to put together a half-baked strategy for applying to good schools that have access to the best and brightest minds from all over the world. From a Chicago Booth MBA:
"Start the whole process early. Give yourself time for setbacks, delays, and more diligence on the schools. You'll be spending the next two years of your life at one of the schools you're applying to, so you might as well make an informed decision."
---
2. Get The GMAT Done First
The GMAT is one of the cornerstones of your MBA resume. Most schools won't even consider a candidate if he/she doesn't fit their initial screening criteria, so make sure you prepare and give yourself enough time to retake the exam if you don't get the score you think you deserve. From an MBA candidate at Vanderbilt's Owen School of Management:
"Get the GMAT out of the way as soon as you can. I studied every single day for three months to prepare for this test and did quite well on the first run. Overall, I think that's what it takes to do well on this exam. Given its importance on your admission result and even scholarship package, it's worth putting in the time and effort."
---
Note: The GMAT Online Exam now allows a physical whiteboard option.
---
3. Visit The School and Sit In On A Class
If and when you can, visit the campus, sit in on a class, and get a feel for the atmosphere and culture of potential schools. While a short visit shouldn't be a determining factor in whether you apply to a school or not, if you do decide to submit an application, the fact that you've put in the effort to visit can depict how serious you are about their program. From a 2019 MBA candidate at Dartmouth's Tuck School of Business:
"Visit the campuses. Even if admissions officers say it does not matter, it gives you a lot of insights to talk about in your essays and interviews. And if you do get multiple offers, it helps you decide where to attend."
---
4. Meet With Current or Former MBA Students
Probably the best way to understand a program's pros and cons or strengths and weaknesses is to meet students who are either currently attending or have graduated from the schools you are strongly interested in. Indirectly, you also network with professionals you can reach out to in the future. From a 2018 MBA candidate at Duke's Fuqua School of Business:
"Visit your top schools, that shows that you're really interested in the school.  Talk to people alums and current students, some schools waive the application fee if you receive a recommendation from them."
---
How much does an MBA cost?
---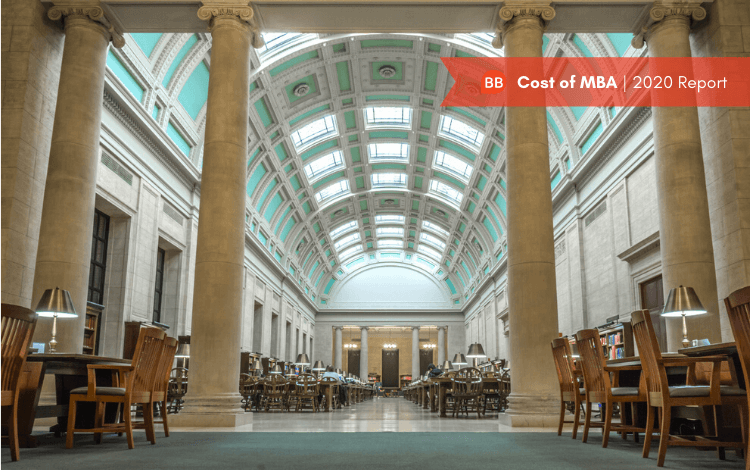 ---
5. Be Yourself In Your Essay, Application, and Interviews
Trying to be the perfect candidate or writing an essay portraying who you think the admissions office wants to read about is the quickest way to getting your application tossed. Like your personal life, people can tell when you're not being genuine, and telling a mundane story about being an impeccable employee doesn't showcase any personality or character.
Remember, you're competing with founders of start-ups, investment bankers, and valedictorians – find a way to differentiate yourself and tell a story about why you'd make a unique contribution to the class. From an MBA candidate at Chicago Booth:
"Do not write a cliché essay or answer interview questions in a way you think they should be answered. Be yourself. Schools are looking for a diverse group of personalities to contribute to their community."
---
6. Make Sure Your Resume Reflects Your Business Acumen
Just because you're trying to be different doesn't mean you shouldn't discuss your business or career achievement. Make sure to emphasize themes and concepts you want to be asked about in interviews, thereby impressing your interviewer. From an MBA candidate at Villanova's School of Business:
"Don't take this time to be humble. Make it your time to shine! If you work in a technical field but are applying for an MBA, make sure your resume/CV reflects your business acumen. It's common for your resume to highlight your technical skills, but not reflect the business skills you've acquired."
---
7. Research How Each School Can Further Your Personal and Professional Goals
While most top-tier programs are excellent across all disciplines, different schools sometimes specialize in different fields. From example, Chicago's Booth is strongly associated with quantitative finance and economics, placing a high percentage of students in finance jobs; whereas Northwestern's Kellogg is more of a general management school with a reputation in the marketing industry. From an MBA candidate at University of Toronto's Rotman School of Management:
"Remember to do your research for every step. Research your schools and their focus areas, such as the location of the school, its relationship with employers, potential career paths, and career history of esteemed professors."
---
8. Don't Apply To Too Many Schools
Applying to as many schools as possible that fit your criteria may seem like the right approach, but burning out or becoming frustrated with the process can result in submitting weak applications. From an MBA Candidate at UPenn's Wharton School:
"I would say six is the max you should apply to. I hit six and really started to burn out. Even with support from a consultant, it just became too much and quality would have really started to drop off if I had done anymore."
---
9. Hire An Admissions Consultant
Similar to hiring a tax attorney or industry expert, employing a professional can significantly increase your chances of being admitted to a top-ranked business school. The only issue is finding a good, reputable one that brings experience and competence to the table. From a 2019 MBA candidate at Columbia Business School:
"Make sure to research the consultants and choose wisely. It's definitely the consultant that provided the added value to my application. My consultant really helped me narrow it down to the key elements that would help me build "my story" in a concise and clear manner that addresses what Columbia wanted to know."